Spring & Hibernate, 2nd Edition
February 24, 2008
Our publisher will start selling the second edition of our book Spring & Hibernate in April, 2008!
Take a look at Amazon's page for our book. The first edition was launched in November 2006. Since then, we have updated the book to the latest software releases, added a few topics and corrected known errors.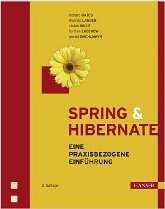 Among the more visible changes are:
A new section on Open Session In Conversation, based on Spring Webflow. An alternative to the Open Session In View pattern.
Another new section on dependency injection for domain objects
Spring 2.5
A new yellow cover...
After our readers received the first edition so well, I think we made an even better book. Go to the book's website for more info and sample source code. Cheers to my coauthors!